The Essential Academic Skills Enhancement (EASE) workshop series
"I took my first Chem lab test. While we were waiting outside for our time slot to start the exam our TA was asking us questions to make sure we knew certain concepts. One of them was the calibration curve and everyone was like 'oh yeah we know that. The Excel workshop very helpful,' to that, our TA's response was ' yeah I noticed that i did not really have to go over that. You guys seem to get it.'" - Mariah Zuni, Chem 123L student
Hot off the Press! As STEM Gateway enters it's final no-cost-extension year, the EASE video workshop series will transition to University College and Continuing Education. This partnership will provide the same great workshops to all UNM students.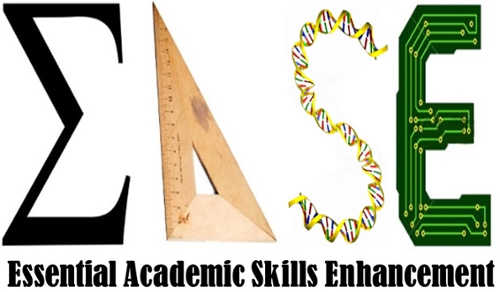 This series of workshops aims to provide undergraduate students with support in basic skills required for success in all courses and future career aspirations. Often it is these essential skills that students are expected to have that hold them back in their course performance rather than content. We hope to alleviate this strain so they can focus on course content. The structure of most workshops are videos with a corresponding assessment in a LEARN setting. 
These workshops can also help with the new general education core reform by providing students with transferable skills within both information literacy and quantitative reasoning, as well as help students succeed in their content specific courses.
Need MS Office (Excel, Power Point, and Word)? Office 365 ProPlus is FREE to Students, Faculty, and Staff! - Log in to your LoboMail account to download Office 365. (Follow the links under "Install Office on more devices.")
Post-workshop Survey
This workshop reviews the basics of conversions between measurement systems and proper scientific notation that is fundamental to accurate problem solving in STEM fields.
Critical Thinking and Pop-Science
This workshop discusses how to recognize and cultivate clear, logic-based analyses of controversial scientific topics in the context of modern political and popular culture.
This workshop covers the basic functionality of PC based Microsoft (MS) Excel 2013©. MS Excel© is an extremely powerful software package for introductory data entry, manipulation, and creation of figures or graphs.
Pre-workshop materials
This workshop covers some basic descriptive statistical methods that can be used through the Data Analysis ToolPak Add-On of PC based Microsoft (MS) Excel 2013©. This workshop moves beyond the Basic MS Excel workshop with an emphasis on descriptive statistical methods that can be executed using MS Excel.
Pre-workshop materials
Look over Basic Excel (see above) presentation and pre-assessment.
YouTube Video: Functions in Excel (required)
Mac users - if you plan on using your own computer, look over the Pre-Workshop Mac Set Up Instructions and install StatsPlus BEFORE the workshop.
If you have a Windows RT devices (i.e. Surface Pro), the Data Analysis Tool-Pack will NOT work on their system, so they will HAVE to use a PC that we provide, because the statistical analysis is not possible without the Data Analysis Tool-Pack, otherwise we'd provide alternative instruction.
This video teaches techniques on how to best incorporate scientific literature into their own writing, including common errors, as well as working with others, and citation managers.
Supplemental Material
This workshop highlights how to effectively read, understand, & critique primary peer reviewed scientific articles.
Presentation Video HERE (coming soon!)
PDF of the presentation is HERE
This workshop includes Math Review, Graph Review, and Problem Solving in an attempt to prepare students for Calculus I (Math 162).
Presentation Video HERE (

coming soon!). PDF is HERE
EASE Partner workshops:
This workshop guides students through how to use the library as a resource, how to use scientific search engines to find scientific peer-reviewed literature, and how to find and read scientific articles.
This workshop will build upon foundation established in Library Research Strategies and enforce concepts of library resources, types of articles, Peer review, Databases, Search Strategy, interlibrary loans and other full text options, develop ability to perform a citation-based search for a journal article, and develop knowledge and skill in reading a primary research article. 
Study Skills - Presented as an in-person workshop by CAPS
This workshop focuses on providing students with a better understanding of the big picture learning cycle, as well as the SQ3R method of studying textbooks.
---
For registration information and course specific details for BIOLOGY (201L - 204L) click HERE.