Active Learning Resource Center
How can you incorporate active learning into the classroom?
There are many ways to use active learning in the classroom. The following brief list summarizes some simple approaches described by others
(Active learning, n.d.; Felder & Brent, 1994; Felder & Brent, Fall 2003; Felder & Brent, Summer 1994; Paulson & Faust, n.d.).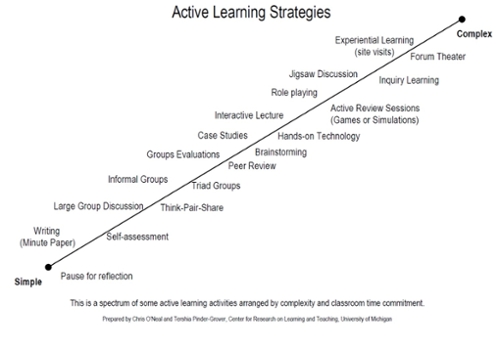 Active learning. (n.d.). Retrieved September 1, 2005, from University of California at Davis, Teaching Resources Center Web site: http://trc.ucdavis.edu/trc/ta/tatips/activelearning.pdf 
Felder, R.M., & Brent, R. (1994). Cooperative learning in technical courses: Procedures, pitfalls, and payoffs. ERIC Document Reproduction Service, ED 377038.
Felder, R.M., & Brent, R. (Fall 2003). Learning by doing. Chemical Engineering Education, 37(4), 282-283.
Felder, R.M., & Brent, R. (Summer 1994). Any questions? Chemical Engineering Education, 28(3), 174-175.
McKeachie, W.J. (2005). How to make lectures more effective. In Teaching tips: Strategies, research, and theory for college and university teachers (11th ed.) (pp. 52-68). New York: Houghton Mifflin Co.
Paulson, D.R., & Faust, J.L. (n.d.). Active learning for the college classroom. Retrieved September 1, 2005, from California State University, L.A. Web site: http://www.calstatela.edu/dept/chem/chem2/Active/ 
UNM Center for Teaching Excellence
Resources for Effective Teaching
Other helpful websites