Mentor-Mentee relationships: Dr. Matthew Campen & Lauren Heine
March 10, 2016 - Yadeeh Sawyer
Two sides of the same coin
The excitement and joy associated with being on a mentor team was clearly discernable in this week's pair: Dr. Matthew Campen and Lauren Heine.
(Click HERE for more info on our re-occurring blog topics.)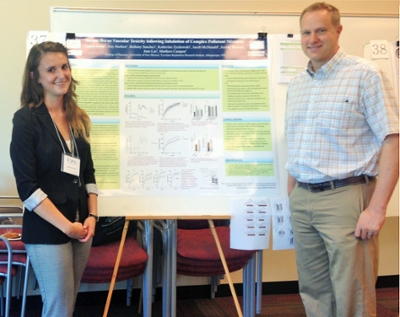 A key to their successful relationship was their open communication. "The hardest part for me is not to use jargonistic language and find a common ground where we could talk on an even level so [Lauren] would understand. Other than that, I don't think there was much work to it" said Dr. Campen. From Lauren's perspective, outside reading was also a large component of this relationship, so she understood the context of her research. Lauren's research culminated in a poster presentation, which she "practiced over and over so I was prepared by the time the symposium came around."
Tied to this, the relationship between Dr. Campen and Lauren can be summarized in a few ways. Lauren stated "I don't know if nurturing is the right term, but he was patient, had a good understanding of my education level, and the gap in my understanding of what he does and what I know from my classes. He made sure I knew exactly what was going on in the lab so I understood what I was doing and how important the work we did was." Dr. Campen agreed, adding that from his perspective, he was "mostly involved with talking with her on how to design studies, interpret the results, and what the data really meant."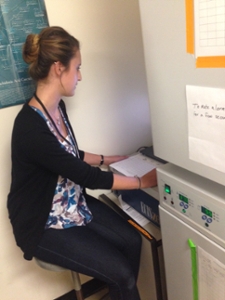 Being part of a mentor team is highly rewarding, for both parties. "Seeing somebody come in to the lab and contribute meaningfully to the lab is great. Also seeing that Lauren learns a lot and has a sense of productivity and accomplishment, is great... showing her that she can walk in to a lab that is doing nationally recognized research and be a part of that, and that it is a viable career path and opportunity if she wants to put the effort into graduate school" reflected Dr. Campen. Lauren's response closely reflected this, but she added that "I think the most rewarding aspects of having a mentor is the opportunity of working with somebody who is an expert in their field, they are very knowledgeable and am able to learn very specific things that I wouldn't be able to do in my undergraduate course work. Mentors when they teach you instill this confidence in your, so you might be more confident when you go out in to the field when looking for a job because you get used to how things run and what to do to better prepare yourself."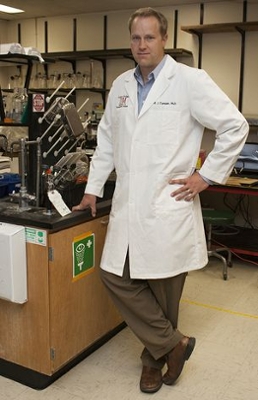 But, let's take a step back. We can see the benefits of being in a mentoring relationship, but how do you get to that point? For Lauren, she was accepted in to the Undergraduate Pipeline Network Program (UPN), ran out of the Health Science Center, this past summer, where she was matched with Dr. Campen based on their work ethics. This is not, however, the only way to become involved in such a partnership. From her experience, Lauren suggests that a student looking for a mentor should "not be afraid, and get out there. The experience is so rewarding. Don't be scared or intimidated, you'll eventually catch on to what they are talking about." Dr. Campen added that "there are a lot of mentors looking for good students. Think of your mentor as a customer that you want to keep happy, but at the same time, it's a two way street and they should provide you with an opportunity and resources necessary to make that happen."
Once communications have begun it is important to build and sustain this mentoring relationship. Mentors should "be patient, try to appreciate that undergraduates have a different education background history at this point… putting out effort in making sure there is a good study that can be easily done in the course of a couple months, do your homework, have the personnel there, more on the practical side." And, the mentee should not be afraid to ask questions or approach their mentor. "Even students in our group were afraid to talk to their mentors, so they would sit around or didn't have something to do because they didn't want to 'bother' their mentor, but they are there to help and teach them. Dr. Campen was always very patient and encouraged me to go ask questions. He appreciated I asked questions because he knew I cared about the work I was doing as well."
The long and short: get out there, don't be afraid, and keep communication open.