STEM Career Profile: Dr. Kenneth Armijo
February 18, 2016 -
(Click 
HERE
 for more info on our re-occurring blog topics.)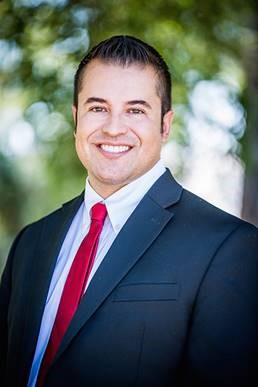 Q. What is your name and current position?
A.Dr. Kenneth Armijo, Staff scientist and R&D system engineer for Sandia National Laboratories, the Department of Concentrating Solar Energy Technology

Q. What does your organization do?
A. We are one of two labs that do solar energy research and development for the department of energy. Sandia leads new research in solar energy that produces technologies that impact everything. We develop energy technologies, intellectual property technology & patents, and help start companies which impact the energy industry and consumers, as well as government and utilities. We also develop new technology, policy, and codes & standards that influence how solar energy technology is used.
Q. What do you do on a daily basis?
A. I do fundamental science research that can improve the performance, reliability, and adoption of new and existing solar energy technologies. In addition, I also do a lot of experimental research that validates fundamental science to prove the viability of new solar energy technologies so that they can impact energy markets and renewable energy policy.
Q. What best part of your job?
A. The three main things that I find that I appreciate the most about my job are 1) being able to develop something that's never been done before with an application of having a large and lasting impact on society, 2) seeing how my work in STEM can impact younger people in trying to push them towards getting a STEM education, and being able to inspire them to become more than what they think they can do, especially poor kids, which I've been focused on with my education outreach work, and 3) being able to have the gratitude of knowing that all the work I do and publish is helping to move humanity forward and improve the lives of so many people in both developed and developing countries, as well as impact local New Mexico businesses, not just larger industries and utilities.

Q. What degrees have you earned and from where?
A. Bachelors in Mechanical Engineering with minor in Math from UNM – cum laude. Master's degree from University of California, Berkeley in Mechanical Engineering with a Management of Technology certificate from the UC Berkeley Haas School of Business, and a PhD from UC Berkeley in Mechanical Engineering with a the Designated Emphasis in Energy Science and Technology certification.
Q. When you were working towards your first degree, did you ever imagine that you would end up where you have?
A. No, not at all. Honestly, when I was growing up, my goal was to graduate high school. I grew up in a small farming community here in New Mexico between Belen and Socorro, which had low graduation and high teen-pregnancy rates. In undergrad I just wanted to graduate and get a job, which I thought engineering was good for. I got internships at NASA's Johnson Space Center, Sandia National Laboratories, and the Stanford Linear Accelerator Center which changed my mind about stopping after undergrad.
Q. What took you from your first degree to the point you are now? In other words, what was your career path?
A. What guided me was being able to have internships and co-ops. And, having outstanding mentors that really pushed me to go after my dreams. Like working for NASA in the Space Shuttle Program pushed me to go on and get a higher degree.
Q. What were some of the significant challenges you encountered along the way?
A. People trying to dissuade me from going forward and getting a higher degree. People who became complacent with their jobs that tried to push me to not follow my dreams from either fear from their failure or of me failing. Others are having family obligations that made it more challenging to continue. And, a lot of times when you become a PhD at a top university in the world and where you are the only Latino getting a degree in engineering, we have this mentality called an 'impostor syndrome' where you feel you don't belong and you can't connect with anybody, and where you feel like you are on your own. Psychologically and sociologically that was a challenge. There was a lot of pressure for me to succeed or drop out.
Q. How did you overcome these challenges?
A. My undergrad advisor told me not to get a PhD because I wouldn't be fit for it. I encountered things like this a lot when growing up, so I took these in stride and found my inspiration from those that told me I was meant for something bigger, focused on the positive and not the negative. What helped me get around the family challenges was seeing how my education and going after my dream could actually make a difference in the challenges my family faced. The opportunity of making a greater impact in my community helped, too, beyond the fundamental science. You only live once in life, so you might as well go for your dream. Aim for the stars, because even if you end up in the atmosphere at least you got off the ground.
Q. What would you say are the key milestones in your career pathway?
A. Social, technical, and professional. Technically, being able to publish in top journals and present at top conferences in my field, and get patents. Socially, being able to start, execute, and see lasting impacts from my STEM outreach activities. I helped start 5 outreach initiatives, that impact title I communities in NM, TX, and CA. And professionally, being able to have broader impacts beyond my field and connect technology to business, legal communities (lawyers) and impact policy makers and how they view science and energy legislation and funding.

Q. What advice would you give to an undergraduate student in a STEM field?
A. Generally, always focus on the technical research you are doing. There are a lot of opportunities that go beyond that, but in order to be successful at those, like business and policy, you must be an expert in your technical field to build true credibility that will let you go further. STEM is a rollercoaster, you can always get off and do other things, but it's hard to get back on because technology is always changing. So in order to be an expert in it, you have to be in on it as long as you possibly can.
Q. Is there anything else you'd like to add that we haven't addressed?
A. Always go for your dreams, no matter how audacious they can be. The biggest regret anyone in STEM, research, and life, is never having gone for the dreams in the first place and giving in to those who tell you' no'.
Want to know more about Dr. Armijo? Check out these links: