Mentor-Mentee relationships: Dr. Sally Davis & Courtney Thornton
February 4, 2016 - Yadeeh Sawyer
Two sides of the same coin
Why involve yourself in a mentor-mentee relationship? Here is what Dr. Sally Davis and Courtney Thornton have to say.
(Click HERE for more info on our re-occurring blog topics.)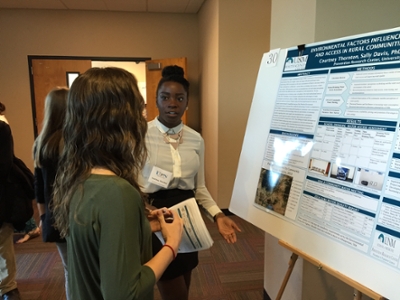 The mentoring relationship between Dr. Davis and Courtney began with Courtney's acceptance into the Undergraduate Pipeline Network Program (UPN), run out of the Health Sciences Center this past summer. They were matched up as a result of basic interests when Courtney expressed a desire to do community research at the Prevention Research Center.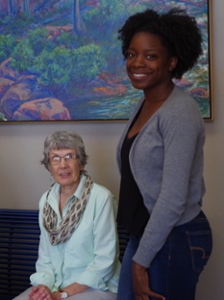 The main characteristic of their relationship is communication. Courtney said, "I ask [Dr. Davis] questions…she is somebody I can talk to and go to for support if I need it." Their main modes of communication are email, staff meetings, and regular check-ins. The mentor has the added task, said Dr. Davis, of "keeping the mentee on track--make sure they are enjoying what they are doing and are not struggling."
A mentor-mentee relationship is "very rewarding; we work as a team." Dr. Davis could not stop gloating about Courtney and the growth she saw within Courtney over the course of the summer: "I didn't know where her specific passion would be in her first week, but when Courtney went out to the middle school we work with, she spent time with them…and by the end of the summer she was so self-confident and excited about her project." Courtney benefited from seeing the rural New Mexico communities she was working to improve. When someone else within the program told Dr. Davis of being "surprised at the level of research vocabulary, ease, and competence" Courtney displayed, Dr. Davis was "just floating, because that is such a compliment."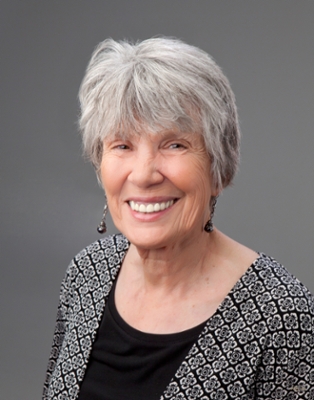 Are you interested in being part of a mentoring team? Courtney suggests you "find somebody that is approachable and works in the area you are interested in--and is willing to help and wants you to succeed." Use online resources to find out as much information about your potential mentor as you can prior to your first contact. Dr. Davis advises mentees to "have flexibility, know that you may have to change some of your expectations when you get into the relationship about how much a mentor can do, and expect that the mentor won't have a whole lot of time. We do our best, we really love having students, but we also have other duties to juggle."
Mentor-mentee relationships are long term; they don't end when the student leaves the lab or department. Once you are in a mentor-mentee relationship, it is important for the mentee to "ask questions when you have them, don't be afraid to ask them, and make sure to check in on a regular basis." For the mentors, Dr. Davis suggests "getting to know your mentee, spend time at the beginning getting to know their expectations, interests, and previous experience." It is important that the mentor create opportunities for mentees to present their work, which is "one of the most valuable learning experiences [a mentee] can have. It's really different to be able to articulate your research and answer questions than to write an abstract or put together a poster."