Faculty Learning Strategies: Physics
September 10, 2015 - Audriana Stark
We are excited that the first Faculty Learning Strategies comes from UNM's very own 2015 Lecturer or Affiliated Teacher of the Year: Mark Morgan-Tracy (Deptment of Physics and Astronomy).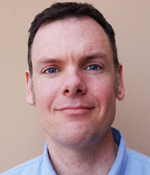 (Click 
HERE
 for more info on our re-occurring blog topics.)
STEM Gateway would like to share the successes of faculty at UNM that are being recognized for their dedication to excellence in teaching and learning. These faculty continue to impress us with their continued commitment to improving teaching for learning. Furthermore, they want to share tips for succeeding in college with students. Learn more about the featured faculty and their tips for success by reading below.(Click HERE for more info on our re-occurring blog topics.)
Mark Morgan-Tracy, Senior Lecturer, in Physics and Astronomy, has been awarded the 2014-2015 Lecturer or Affiliated Teachers of the Year by the Center for Teaching Excellence. The award recognizes the contributions to UNM's teaching mission by consistently employed, nontenure-track faculty. Mark served as a leader of the Physics 140/160 course redesign project in 2013-2014 and attended numerous teaching professional development workshops throughout the duration of the project. We commend Mark for being nominated by students and selected for his engaging teaching style.
Tips for students to succeed in Physics: Dr. Morgan-Tracy recommends that in order to excel in class "get help out of class". Go to office hours, SI help sessions, or see a tutor at CAPS. Don't wait until the middle of the semester or until it is too late. Go early and go often. Furthermore, be sure that you make the most out of the time you use in study sessions by asking directly for help on material isn't clear. Knowing what you don't know will lead to more productive study sessions.