Collaboration between PLFs and STEM Advisement!
November 22, 2013 -
As diligent students and hard-working staff members, we have many reasons to "TGIF" here at Stem Gateway! But admittedly, one of our favorite things about Fridays is weekly training with our Peer Learning Facilitators. During these sessions, PLFs further develop their skills as peer-tutors and receive programming on how to become better students themselves.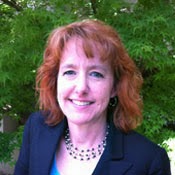 On October 18, 2013 PLFs got a break from their typical training routine to host a special visitor, Kelli Hulslander! 
Kelli is the new Student Advisement Coordinator for STEM majors in the UNM College of Arts and Sciences. Since taking her new position, Kelli was kind enough to stop by our training session to get feedback from the PLFs about what improvements could be made to STEM advisement. As tutors in STEM classes and students of those disciplines themselves, the PLFs had quite a lot to share! Overall, it was a very upbeat and enlightening meeting for both parties. The PLFs were very excited to share personal anecdotes with Kelli, and she had the unique opportunity of connecting with students willing to assess her program.
Since that training, Kelli has continued to support our PLFs. Through email correspondence, booking rooms for study sessions and more, she has become an invaluable resource at STEM Gateway. 
Kelli is going above and beyond in her new position and we are so grateful to have had the opportunity to connect with her this semester!
Have questions about Arts and Sciences advising?  Start here: http://artsci.unm.edu/advisement/