PLFs Pitch In at Men of Color Study Hours!
October 4, 2013 -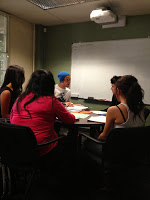 Here at STEM Gateway, we take advantage of any possible chance to brag about our awesome Peer Learning Facilitators! From helping to solve in-class iclicker questions to holding Friday afternoon review sessions, PLFs can be found all over UNM encouraging student success in STEM courses. Fortunately, PLFs aren't alone in these efforts.
UNMs Men of Color Initiative hosts weekly BOSS UP! study hours that are open to all students interested in working on their assignments alongside PLFs and other tutors.
 A member of our PLF team, Katy Sears, holds office hours at the MOCI study session every Thursday evening and is quick to endorse the effectiveness of the events: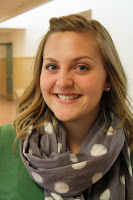 Katy says: If I can't answer a question as a PLF, there are always other people who can help explain ideas to a student.
"There is a diverse group of people coming to the MOCI study hours. Chemistry and Math are the popular subjects, but there have been a few students for English, Biology, or just to study. We can help with a range of subjects. Math, Chemistry, Biology, English, History, Languages … most of us are happy to help with anything outside of what class we PLF in.
I like having my office hours at the GRC because it feels like a big group study session. There is usually a decent amount of people there, so you feel like you can ask anyone for help on anything.  If a PLF doesn't have a student or a student who needs help, they will work on their own tasks and it feels more like you are a "peer" rather than a "teacher". Its fun when a few students from the same class come because they can bounce ideas off of one another and feel more comfortable working together in class.
It is a really good group-learning environment because everyone is having fun, but still able to work on various tasks they need."
Learn more about Study Hours and other events from MOCI here.